Public Performance Partners is a start-up not-for-profit company helping local governments and schools align their business practices to become more efficient in a tough fiscal environment. I provided services including brand development, Website and content development, media relations at P3's launch and I continue to provide consulting services including social media training, communication planning and content creation.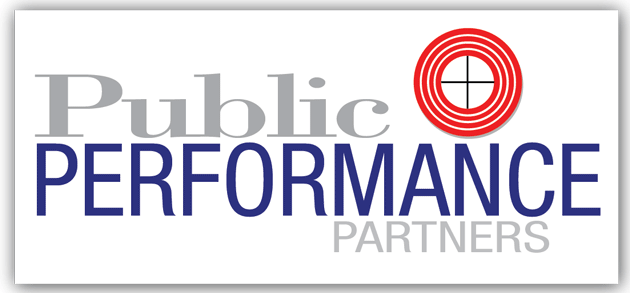 Background
Hugh Quill, former director of the Ohio Department of Administrative Services, decided in late 2010 that he was going to take his 25 years of making the business end of government more efficient to a broader audience.
In Ohio there are over 1,300 townships, 88 counties, thousands of towns and villages and 618 school districts. It became apparent that major structural change was about to occur in state support for local governments and educational institutions due to the $8 billion state budget deficit. With local officials' resources already stretched from thin to the breaking point, Hugh came up with the idea for a not-for-profit company.  Public Performance Partners (P3) would work alongside local governments and school districts to help them yield budget savings through efficiency measures, hopefully forestalling cuts to constituent services.
P3 would bring together subject matter experts to help public entities plan and execute projects to streamline information technology operations, create opportunities for collaboration, evaluate and improve purchasing activity and evaluate and improve employee health care costs among other things.
My Approach
The first step was to understand Hugh's vision for P3 and to discuss with him the various operating and funding models he was considering for the company. We also discussed  his audience and determined that ultimately much of his communication and marketing would be targeted at the local entities P3 will serve, but in the short term potential funders and statewide opinion leaders would be a key target audience for this start up.  We considered the 501(c)(3) status of P3 and how well-planned communications could help him provide advocacy and educational materials through the company. Finally, we planned for all the basics a company would need such as a logo, business card and letterhead designs, email accounts, Web hosting, and the like.
I hired an experienced designer who I've known and worked with for several years for the logo and design of the basics like business cards. We discussed concepts, colors and potential elements.  In the end, we presented several options to Hugh and he chose the logo at the top of this page.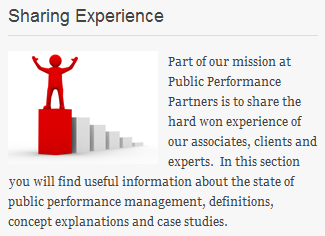 I decided that with Hugh's mobility the first order of business needed to be a Web presence that started with the basics, but would be built for scale as his business ramped up. Because Hugh's venture is truly unique – a non-profit business consultancy aimed at public entities – tightly and plainly written content was key. His website is a great aid as he meets with potential funders and clients.
Two of the unique features of his site are the "Sharing Experience" and "News You Can Use" areas.  As P3's operations commence, case studies and other information of use to public officials will be created for "Sharing Experience."  News You Can Use is a blog where Hugh or other principals of the company can share updates about P3 or the business and political environment. Both of these channels will be key to P3's advocacy and educational efforts.
The main menu contains the most important basics:
About – An overview of P3
CEO Message – A personal message from Hugh
Our Services – An exhaustive section about all the possibilities P3 has to offer local entities
Contact Us – A page where interested people can send a message to P3 or request more information
We chose a homepage design for P3 that would offer a of lot information up front and engage the viewer with images that represent the business areas in which P3 operates. Messaging on the homepage draws interested viewers deeper into the site. The three-column middle and four-column footer allowed for creating  extra opportunities to showcase bits of content on the homepage and adds a place for encouraging sharing on various social media platforms.
Aside from the Web, one other area of focus at start-up was key. We issued a press release about P3 during a lull in Statehouse news coverage between Christmas and New Year's Day. Follow-up phone pitches were made to key Ohio state politics and government reporters.  We were rewarded with coverage and saw the first spike in P3's Web traffic.
Outcomes & Future
P3's website scores high on average pages per visit and the time visitors spend on the site
One day after search engine optimization, a Google search of "Public Performance Partners" yields P3's site as the first entry in the search results.
P3's opening for business garnered coverage in the Dayton and Columbus markets.
Hugh has received many favorable comments on the content and quality of P3's website.
As P3's operations ramp up we will be working on case study and fact sheet content, improving CEO presentation material and communications and media planning for individual P3 engagements with clients.
Want to Know More?
We hit the high points above, but there was much more in helping P3 CEO Hugh Quill get his company off the ground. If you're interested in looking at ways well-planned and executed communication and marketing strategies can help your business, send me a message through my contact page.