I have 20 years of experience helping companies, non-profits and government leaders communicate and sell their ideas, products and services. Well-planned communication and marketing strategies not only make your endeavors resonate with your audience – they solve problems and keep them from occurring.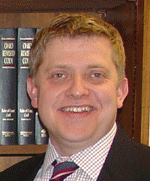 Welcome to my online home.
My name is Ron Sylvester and I am in business to help organizations large and small, public and private, solve and avoid problems with excellent communications.
I've spent the last 20 years working in both the government and private sectors. Some of the roles I've filled in Washington, D.C., Urbana, Illinois and Columbus, Ohio include newspaper reporter, press secretary, change agent and director of communications & external relations.
A few things that I've learned along the way: details matter, how we communicate within our organizations greatly affects our customer/client relationships, all of our stakeholders are more energized when they have something to believe in, we can do big things with scarce resources and the latest, trendy tools are meaningless without the professional and life experience to use them wisely.
I've worked for organizations large and small. I am comfortable working with colleagues from all professional backgrounds and have experience with government leaders, back office business managers, large company sales and marketing teams, scientists and engineers, social service providers and candidates running for public office. One of my strengths is a passion for learning. I have an aptitude for taking information in and translating it into messages and themes that appeal to laypeople and experts alike.
Prior to beginning my own consulting business, I served for four years as the director of communications and external relations at the Ohio Department of Administrative Services (DAS). DAS provides back office services for all state agencies. Among other things, DAS does human resources policy, employee benefits management, collective bargaining management, real estate services, state procurement, state information technology governance and construction project management. My team included communications and government relations professionals. We accomplished many things including:
Handled media relations including crisis communication,
Unifying the DAS brand across dozens of operating programs,
Reforming the state employee benefits communication program,
Maintained a strong presence on behalf of DAS with the Ohio General Assembly,
Provided consulting services to DAS operating units from marketing to review and improvement of their business communications,
Supported state leaders in procurement reform and public construction reform initiatives,
Helped manage change during the implementation of OAKS, the state's accounting and human resources software system,
Redesigned and launched the DAS website to make it more customer-friendly and a better tool to support DAS' operating divisions.
I'm passionate about communications, public relations and marketing. I have seen the great impact well-planned and executed communications can have on all manner of projects. Among the clients I am targeting are small or start-up organizations or businesses who may not be ready for a full-time communications or marketing department.  I can work with your company or organization to assess operations from a communications perspective and help you implement the measures that will yield results while honoring your resource constraints. Additionally, I can work with firms of any size on special projects including,  media planning, media relations, website development, change management, social media planning and implementation, marketing collateral and writing tasks.
Contact me. Let's get together and talk about what you're doing and where you want go. If you want to know more about my specific experience, please view my résumé.